Rise and shine this school year and give yourself a break on the weekends! New brunch spots in Detroit in 2022 are adding an extra of light to our day. The sunlight may be shortening, but the city still serves up slices of brightness from scrambled eggs to honey, and the clinking of cheerful mojitos.
Detroitisit rounded up a list of the best new brunch spots in Detroit to add to the growing list of the hottest places to eat in Detroit for any time of day.
 

BISTEC RANCHERO PHOTO, LA JALISCIENSE / LA JALISCIENSE SUPER MERCADO
LA JALISCIENSE SUPERMERCADO Y TAQUERIA
The city is plentiful with withstanding supermarkets. For example, Lafayette Market in Lafayette Park Plaza has served the community for numerous years. It's no wonder we're seeing more local goodness for our daily produce shopping. With a bountiful butcher's counter and house-made chicharrones, La Jalisciense has also risen as a dining destination. They feature tacos, quesadillas, and tortas, along with Mexican breakfast delights such as huevos rancheros, huevos revueltos for meat-lovers, birria de chivo (goat), and a full-service bar. Click HERE to visit their site.
JOE LOUIS SOUTHERN KITCHEN

JLSK FAMOUS BREAD PUDDING, PHOTO JOE LOUIS SOUTHERN KITCHEN / JLSK
This list of new brunch spots in Detroit wouldn't be complete without the classic Southern comfort food Detroiters love. Why not have a seat with some cinnamon roll flapjacks at a restaurant named after the famous Detroit boxer for a real treat in town? You can start the day off with some bananas foster French toast or stop by any other time! They offer all-day brunch for seven days and the menu features Southern favorites like bread pudding, key lime pie flapjacks, Creole shrimp and grits, and Cajun fried turkey leg. Click HERE to view their menu.
Location: 6549 Woodward Ave, Detroit, MI 48202.
OLIN BAR & KITCHEN
This could be your next dinner party gathering spot or a laid-back Sunday brunch spot with the ladies. Olin Bar & Kitchen is an American-Mediterranean brasserie. They feature a seasonal blend of ingredients with Mediterranean and Spanish influences. Sunday brunch consists of challah French toast, fried paella rice, and shakshuka. These delicious options call for cocktails like a mimosa, a bloody Mary, or the gin- or vodka-based Gemini. Click HERE to view their site.
Location: 25 E Grand River Ave, Detroit, MI 48226.
THE JUMPOFF, PHOTO BRASS RAIL PIZZA BAR / BRASS RAIL PIZZA BAR DETROIT
BRASS RAIL PIZZA BAR
The latest August restaurant opening in Detroit is unique! Though, Detroit is no stranger to the original pizza scene. Brass Rail Pizza Bar in the Grand Circus Park area is serving Saturday brunch. Expect the innovative and classic coexisting for your pleasure. Standard brunch items include buttermilk fried chicken and waffles, grilled steak breakfast skillet, French toast, shrimp & cheddar cheesy grits. They're also twisting our tastebuds with the new Brass Rail Breakfast Pizza, Philly steak breakfast burrito, and the grilled veggie breakfast sandwich, just to name a few. Click HERE to book a reservation.
Location: 18-24 W Adams Ave, Detroit, MI 48226.
SUPERGEIL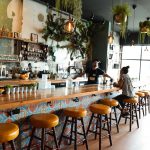 INSIDE SUPERGEIL,PHOTO SUPERGEIL GALLERY / SUPERGEIL DETROIT
Supergeil newly made itself a home in Corktown as you may have seen from Detroitisit's new cocktail bars in Detroit article. Taste their specialized Berlin-style döner kebabs and tinned seafood (sardines, tuna, mackerel, and mussels) along with their array of drinks. It's the spot to be every Sunday for brunch! Try their twists on traditional breakfast fare like its döner Benedict, feta and toast with olives, or sesame rolls with honey. They also have a general, seasonally inspired menu. Click HERE to view their site.
Location: 3923 Vernor Hwy, Detroit, MI 48216.
PRIME + PROPER
Eating brunch in the city is special in itself. We all know breakfast and lunch aren't always prioritized. You may have already checked out some of the new fine dining restaurants in Detroit, so here are more options for the early birds! This downtown brunch experience as the name suggests is for those looking for a little more to the menu. Brunch is from 11 a.m. to 2 p.m. every Saturday and Sunday. Expect classic breakfast staples like Dutch baby pancakes, bagels, country sausage, lox, and scrumptious pastry options. Your eyes might wander over to the Crab Oscar Benedict with blue crab, an omelet infused with black truffle, and a caviar bar. It's a popular place, so click HERE to make a reservation!
Location: 1145 Griswold St, Detroit, MI 48226.
 
As always, be sure to subscribe to our newsletter for regular updates on all things Detroit
A Clockwork Orange Ending Is Better Off With Alex Not Being Cured
Nigeria's Future Will Be Great, Osinbajo Prays At 62nd Independence Anniversary Service